Decoding a Used Ram 1500 Door Jamb Sticker
If you're in the market for a used Ram 1500, that's a good thing because they're durable and rugged vehicles. However, if you are purchasing one for towing and trailering or other specific work or recreational purposes, you'll want to read the door jamb sticker to understand the specifications of the vehicle and ensure it'll meet your needs.
Luckily, we'll help you decipher the meaning of the codes and numbers hidden in the door jamb sticker. But, if you have questions, just contact us at Dan Cummins Chrysler Dodge Jeep Ram right here in the heart of Paris, Kentucky, and we'll walk you through the details as we have the experts on staff to put your mind at ease when buying your next used Ram 1500.
Value in a Used Ram 1500
If you're in the market for a used truck, the Ram 1500 is an excellent choice. These trucks are known for their performance, power, and towing capabilities. When you need to depend on your truck, this one will put in the work mile after mile.
Buying a used Ram 1500 doesn't mean you need to sacrifice what you want in it. At Dan Cummins, we will match your purchase criteria with the right truck in our inventory or our broader network. We'll ensure the truck will have the cargo space, towing and trailering weight, cabin comfort, engine power, and performance you need, whether it is for work or play.
Our team will get creative to ensure the financing fits your budget and cash flow. We'll provide top dollar on your trade-in to minimize your purchase price. We'll also take care of the pesky paperwork to ensure title, registration, and doc fees are done properly and in accordance with laws and regulations.
So let's dive into the details of the door jamb dilemma.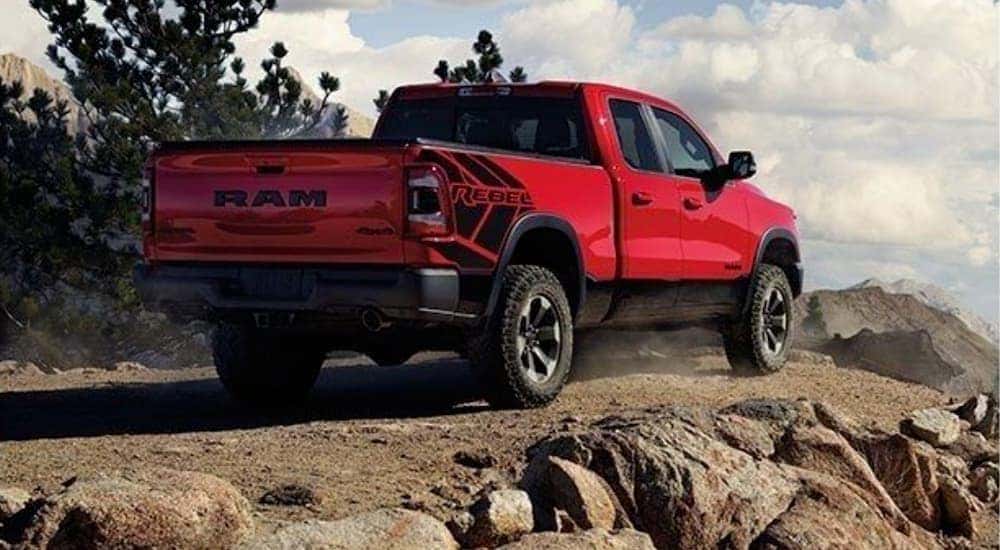 Details in the Door Jamb
If you get a chance to look at the inner frame of your drivers' door and you'll likely notice a sticker better known as the door jamb sticker. You might even find a few stickers depending on the year, make, and model. Regardless, the information on the door jamb stickers is critical in helping you understand some highly relevant data points about the Ram 1500's tires, towing, trailering, and performance information.
VIN Details – You'll likely see the Vehicle Identification Number (VIN) and complementary details. The VIN is the unique number that only this specific Ram 1500 has, and it can be used to look up important details such as title and ownership information. You'll also find some related numbers or names on this sticker, such as the paint type and the trim type. The paint type is important so you can do an exact match for any touch-ups or repairs to the Ram 1500's exterior finish. The trim level is also displayed to show you the version of your Ram 1500 and the features that were on it at the time of manufacture, so you know what was original.
Weight Details – An important number you'll find on a door jamb decal is going to be numbers that describe the Ram 1500's gross vehicle weight rating, likely listed as the GVWR on the sticker. This weight factors in a full tank of gas, the maximum number of passengers, and the maximum amount of cargo. Exceeding the maximum GVWR can result in mechanical failures that could put everyone in the truck and on the road at risk, so pay attention to this data point.
Tire Details – The door jamb stickers will also tip you to important facts about the tires you should use when operating your Ram 1500. You'll see information about the size and dimensions of the tires and the proper PSI level that each tire should be inflated to so your truck will drive safe and smooth.
Trailering Details – In addition to the GVWR described above, which is an overall figure for the vehicle, there are additional numbers worthy of your attention when using the Ram 1500 for serious towing and trailering. One is the Gross Axle Weighing Rating (GAWR). GAWR represents the maximum weight an individual axle can support.
Other items that may be apparent in the door jamb would be the payload, which is how much additional cargo weight you can add beyond what the truck weighs on its own. This is a simple yet useful number to approximate what you can safely carry as payload. The Towing Capacity is another number that will be super useful and is specific to trailering. This is the maximum pounds the truck can safely tow behind it. It is a factor of the aforementioned GVWR and GAWR numbers.
Finally, there is the Gross Combined Weight Rating or GCWR. This is the largest number you'll likely see on the door jamb or in Ram 1500 specs. This is the maximum weight when the truck is at its maximum payload and maximum towing capacities. So, don't exceed GCWR; that's pretty important.
The official Ram 1500 specs will tell you a lot of the basics. For example, a 2021 Ram 1500 Tradesman has a GVWR of 7,100 pounds, a payload capacity of 2,320 pounds, a towing capacity of 7,740 pounds, and a GCWR of 12,900 pounds. However, those are maximum specs for the model, and your particular used truck will have different numbers depending on how it was options. So look in the door jamb instead of just reading the official manufacturer specs.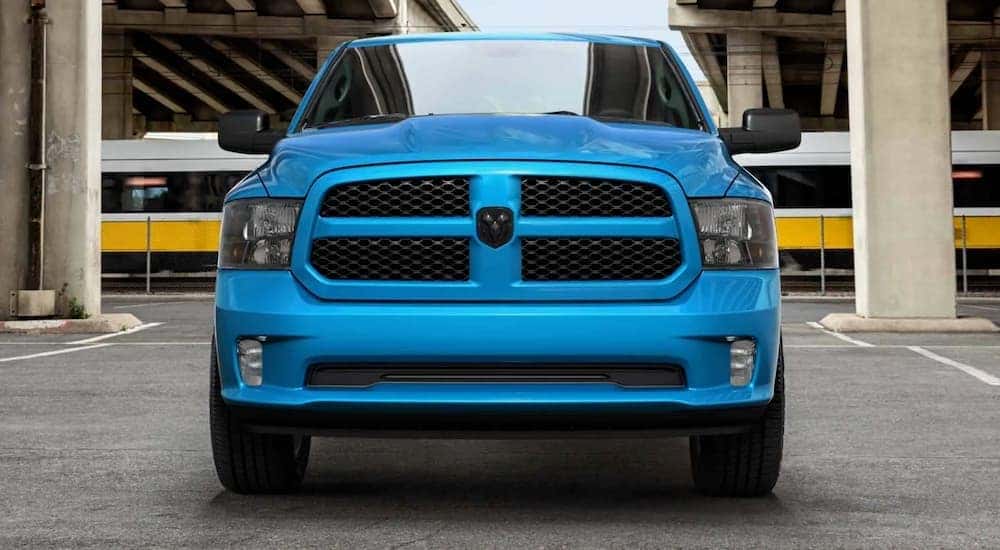 Does the Door Seal the Deal?
While the door jamb has a wealth of information, Ram also recognizes that the average truck buyer may not have the time or expertise to decipher all of this information. Given information about tire pressure and towing weight are pretty important to vehicle and people safety, Ram created a cool website where you can simply type in the VIN and find the specific payload and towing ratings for that specific Ram 1500.
Just go to the Ram Towing Capacity Guide, and there will be a pop-up box to enter the specific VIN when clicking "look up my vehicle." This site also has tons of general information about towing and trailering with a Ram, including towing technologies you can use and the engine performance when towing. If you plan to do some serious hauling, such as a boat, RV, or camper, be sure to check out this useful site.
Be Confident, Ask Our Experts
As you can tell, there is an overload of information on the door jamb and elsewhere. That is why you should lean on our friendly and knowledgeable team at Dan Cummins for your used Ram 1500.
Depending on your needs, we'll likely tell you that your tires should be between 35 and 80 PSI depending on the tow weight, terrain and weather. We'll also let you know that your Ram 1500 should tow about 10% under the maximum GCWR because we want you to be conservative and safe when on the road with your family and friends. Our staff will educate you on what it means to have an E10 tire which is the likely tire you'll need for the distance and cargo you'll tow.
So check out the door jamb in a used Ram 1500, but then stop by and see us. We'll figure it all out together – that's who we are and what we do.