The Best Plant-Based Restaurants in Paris, KY
From Louisville-style beef chili to Kentucky barbecue featuring mutton and sheep, meat is a staple of a lot of our state's cuisine. However, vegetarians and vegans don't have to fret thanks to a range of plant-based restaurants. Whether you abstain from meat for cultural, ethical, or health reasons, you can go out and enjoy a delicious meal.
Here at Dan Cummins Chrysler Dodge Jeep Ram of Paris, we understand the importance of being able to eat out regardless of your dietary restrictions. Paris is a relatively small city with limited vegan and vegetarian options, but we've compiled a list of viable spots nearby. Read on to discover our top recommendations for plant-based restaurants around Paris.
The Social Vegan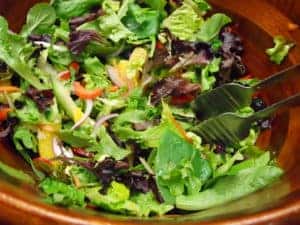 Since its opening, The Social Vegan has sought to be the best vegan restaurant in Lexington. Its commitment to this goal definitely makes the short road trip from Paris worth it. The restaurant prides itself on serving ethical, nutrient-rich, and delicious dishes that use ingredients from local farmers. Start your dining experience with classic appetizers like Buffalo cauliflower wings, fried coconut shrimp, and street corn.
Big groups love the Social Classics section of the menu that features quesadillas, ultimate social nachos, and vegan nacho cheese fries. You can also enjoy frozen drinks ranging from Kentucky and Moscow mules to virgin piña coladas. Additionally, The Social Vegan sells gift cards that make the perfect present for your vegetarian and vegan friends. While the restaurant offers a welcoming atmosphere, you can also use the online ordering system to pick food up and take it home.
Location: 101 W. Loudon Ave., Suite 162, Lexington, KY 40508
Hours: 11 a.m. to 10 p.m. Tuesday through Saturday and 11 a.m. to 8 p.m. on Sunday
Pasta Garage
If you're in the mood for Italian food, be sure to visit the Pasta Garage. This restaurant makes fresh pasta every day using high-quality ingredients from Lexington Pasta. Several of the menu items indicate vegan options, including salads, rigatoni, penne, rotini, and certain sauces.
If you want even more vegan or gluten-free options, be sure to ask the waitstaff for more information. We also like Pasta Garage because of its fast, casual dining atmosphere and ability to cater for large off-site events. Those who stop by during the summer months can take advantage of the farmers market specials for fresh ingredients at great prices.
Location: 962 Delaware Ave., Lexington, KY 40505
Hours: 11 a.m. to 9 p.m. Monday through Sunday
North Lime Coffee and Donuts
Because of the prevalence of dairy, it can be difficult for vegans to find a reliable coffee shop. Fortunately, North Lime Coffee and Donuts in Lexington is the perfect solution. While this shop is the perfect place to grab breakfast or your morning pickup, many guests opt to do work or socialize in the comfy atmosphere. You can relax when placing your order knowing there are plenty of dairy alternatives like soy, oat, and almond milk. Check the menu online to see the daily donut specials. Popular vegan flavors include cold-brew filled, lemon lavender, lime and coconut, and glazed blueberry.
Location: 101 W. Loudon Ave., Suite 160, Lexington, KY 40508
Hours: 7 a.m. to 3 p.m. Monday through Sunday
Perico's Mexican Restaurant
Perico's Mexican Restaurant is committed to making authentic Hispanic dishes that meet their customers' high expectations. Since its inception, the establishment has built an expanding network of family-owned farms that provide them with the best local, organic ingredients. The direct line between farm and table means that you can feel good about the food you're eating.
While not inherently a plant-based establishment, Perico's Mexican Restaurant will customize the dining experience for anyone. The website claims that this promise comes from the recognition that no two customers are the same. If you're vegetarian, you can order menu items without meat to adhere to your dietary restrictions. Even better is that there's an extensive vegetarian section of the menu to make ordering much easier. Try items like the spinach enchiladas, spinach quesadillas, mashed-potato taquitos, and burritos with potatoes, beans, or cheese.
Location: 4221 Lexington Road, Paris, KY 40361
Hours: 11 a.m. to 9 p.m. Sunday through Wednesday and 11 a.m. to 9:30 p.m. Thursday through Saturday
Archa Nine
Whether you want to enjoy a fast lunch or linger over dinner with loved ones, Archa Nine is the perfect spot. This easygoing strip-mall outlet specializes in Bangkok-style dishes, meaning you can enjoy authentic flavors from Thailand's capital city without straying too far from home. The staff prepares all dishes fresh to order, and while you'll be sitting in a cozy dining atmosphere, the very first bite will transport you halfway across the world.
An impressive vegan menu allows those with dietary restrictions to also experience the deliciousness. Try the Wealthy Tofu, which features crispy tofu and stir-fried mushrooms, onions, bell peppers, and other veggies on top of wide rice noodles. Other popular vegan menu items include Woon Sen Chay Wok and Szechwan Eggplant.
Location: 162 Old Todds Road, Suite 110, Lexington, KY 40509
Hours: 11 a.m. to 2:45 p.m. and 5 to 8:45 p.m. on Monday through Friday and noon to 2:45 p.m. and 5 to 8:45 p.m. on Saturday and Sunday
Minton's
Our last recommendation is for Minton's, a family-owned restaurant specializing in small-batch, handcrafted cuisine. Whether you go in for breakfast or lunch, you'll be glad to hear that the staff can make various menu items vegan or vegetarian. A few favorites include the Sweet Potato Hash, Little Brother, Sriracha Tempeh Salad Sandwich, and Tomato Dill Bisque.
Location: 760 N. Limestone, Lexington, KY 40508
Hours: 11 a.m. to 3 p.m. Tuesday through Friday and 9 a.m. to 3 p.m. Saturday and Sunday
While it can be challenging for vegans and vegetarians to eat out, the surrounding Paris area is working to meet demand. We hope this list of plant-based restaurants helps you better plan your meals when you're not cooking at home. If you have other suggestions, please let us know here at Dan Cummins Chrysler Dodge Jeep Ram of Paris.
Salad by Colorado State University Extension is licensed with CC0 1.0