Chrysler, Dodge, Jeep, and RAM Winter Tires For Sales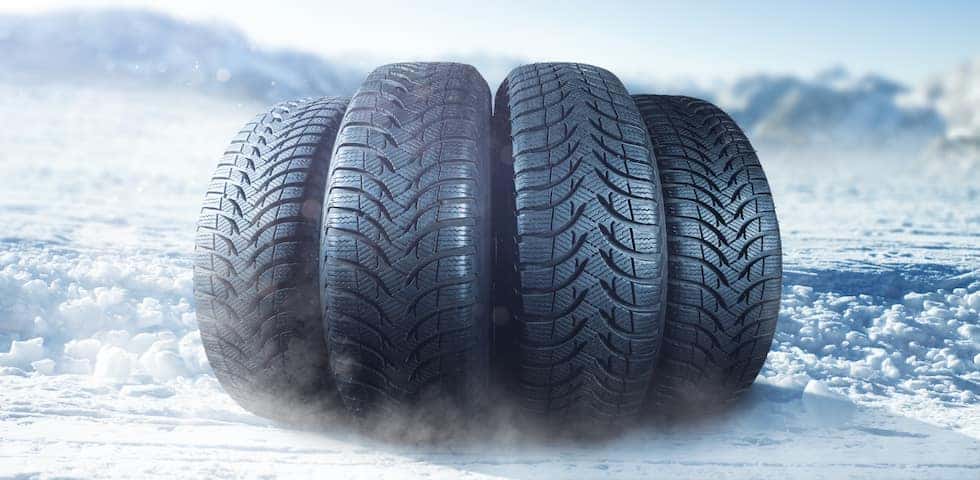 Order Winter Tires
Looking to ensure that your vehicle is ready to take on the winter? One of the first steps you can take to promote the safety of you, your loved ones, and other motorists around you, is to swap out your summer or all-season tires with a fresh set of high-performance winter tires. Luckily for you, our
Dan Cummins Chrysler, Dodge, Jeep, RAM
service center near Lexington, Covington, Louisville, Winchester, and Nicholasville is here to not only explain what exactly makes winter tires so vital when it comes to winter weather driving, but to install a new set for you as well!
The Importance of a Winter Tire
In order to deliver maximum braking effects when driving in unpredictable and hazardous weather, winter tires are manufactured to have both a flexible rubber compound that retains its elasticity in colder temperatures, as well as a unique tread pattern that's made exclusively for use on snow, slush, and ice. These tires are designed specifically to excel in the winter and provide Lexington area motorists with increased traction levels, shorter stopping capability, and a significant increase in directional stability when driving at higher speeds.
With all of this being said, the most important thing to keep in mind is that your tires are your vehicle's only point of contact with the road, and for this reason, they deserve to be in the same conversation as your brakes when it comes to the most vital aspects of your vehicle.
Order Winter Tires For Your Chrysler, Dodge, Jeep, or RAM at Dan Cummins CDJR Near Lexington
If you're interested in learning more about our inventory of winter tires or you would like to schedule a service appointment to have a new set of winter tires installed on your vehicle, please feel free to contact us online or visit us in-person here at Dan Cummins CDJR, conveniently located at 2021 Alverson Dr in Paris, KY.
Order Winter Tires