Everything Old is New Again – To You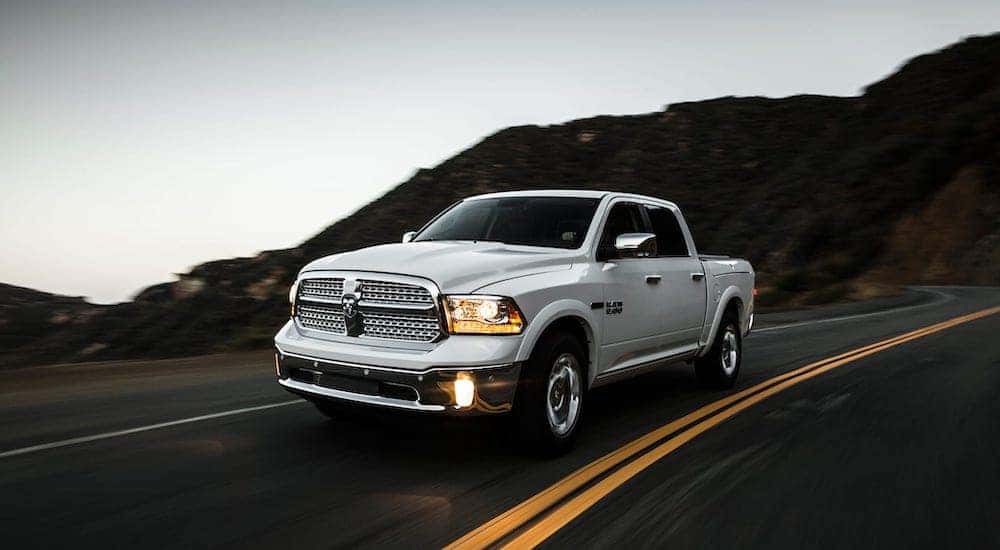 Ram owners are America's most-loyal half-ton and heavy-duty pickup owners, according to the IHS Markit Study. If you're a long-time Ram fan or are new to the brand, at Dan Cummins Chrysler Dodge Jeep Ram, we have plenty of used Ram 1500 trucks available for purchase. However, you might find yourself wondering just how to use all the advanced tech available in your new Ram? How do you set up the UConnect infotainment system on your used Dodge Ram? Why do I want it, anyway? Buckle up, and we'll explore the Uconnect System.
At a full 12 inches, the available Uconnect 12.0 offers the largest touchscreen in its class. Its customizable home screen has the split-screen capability and pinch-and-zoom technology, just like your favorite smartphone. You can access a variety of apps with it, including navigation and SiriusXM satellite radio. When you pair your smartphone with Uconnect, you can start your vehicle remotely, lock and unlock the doors, and even beep the horn all from your pocket.
Siriusly Capable
The Uconnect version of SiriusXM is more than just streaming radio. With SiriusXM Guardian, you can also call roadside assistance and receive alerts to your smartphone if someone sideswipes your parked Ram or tries to break in. By starting your Ram remotely with SiriusXM, you can also warm it up in the winter and cool it down in the summer. While sounding the horn and flashing the lights are impressive to ward off thieves or just to find your truck in a crowded parking lot, SiriusXM Guardian is also super practical for sending directions from your smartphone to the available navigation system. Both Uconnect navigation and SiriusXM's Traffic Plus can help you get to where you're going as smoothly as possible.
You can also use SiriusXM Guardian to reach emergency services, contact roadside assistance, and troubleshoot your system. With Uconnect, you can receive a monthly vehicle health report to learn how your truck's mechanical and electrical systems are working and communicating. Vehicle health alerts will let you know when it's time to head to the garage. If someone attempts something nefarious with your Ram, Uconnect can send text, email alerts, and even push notifications. If the worst happens, Stolen Vehicle Assistance can help the police locate your vehicle in a snap, thanks to GPS data.
You can personalize your SiriusXM subscription with up to five listener profiles, each of which will adapt based on your listening history. You can even access over 5,000 hours of On Demand content and search with voice commands for whatever will scratch your listening itch. Because the Uconnect system will also connect with your smartphone, you don't have to leave that song behind when you park your Ram – it will still be available as you walk to your destination.
There are five different levels of SiriusXM Guardian packages. The Security Package includes theft alarm notification and stolen vehicle assistance, while the Assist Package offers SOS Call, Roadside Assistance Call, and SiriusXM Guardian Assistance. You can combine these two with the Assist + Security Package. For more functionality, the Convenience Package offers everything in the Assist + Security Package, plus remote start and remote door locking and unlocking. All the possible SiriusXM Guardian perks are contained in the Convenience + Security Package.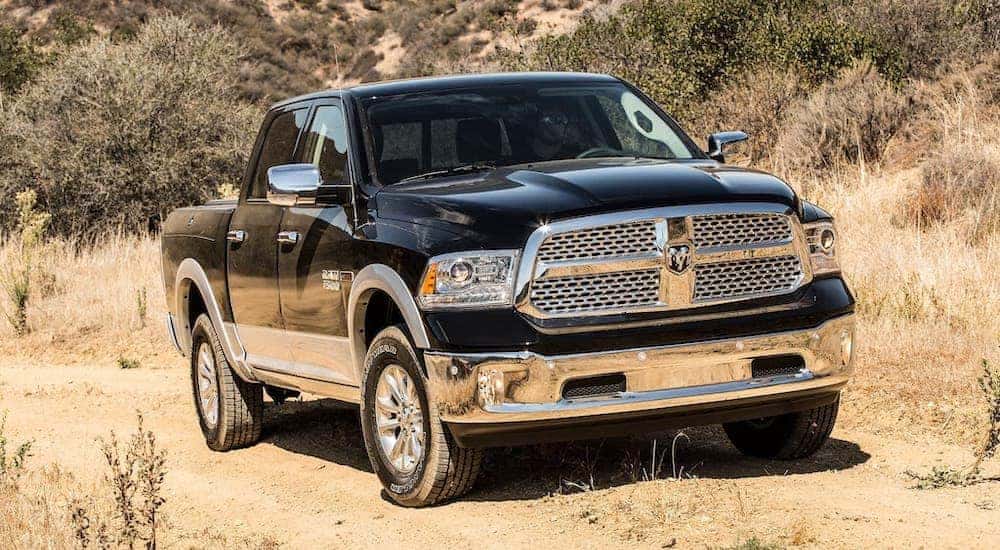 More than One Way to Play and Pay
Besides SiriusXM Guardian options, UConnect offers full Apple AirPlay and Android Auto functionality. It will also allow up to 10 smartphones to connect via Bluetooth. So whoever travels with you, you'll be able to reach everyone's favorite playlist. Of course, all this connectivity is no good without access. With Uconnect, you can even use your vehicle's antenna to create a 4G WiFi Hotspot.
Besides smartphone app connectivity, you can also link your home Alexa device from UConnect. Then you're able to start your vehicle, check the fuel level, and even send directions to the navigation with voice commands. Also available is the Uconnect Market. When this is enabled, you can find and pay for fuel, food, parking, and even make dinner reservations from the comfort of your driver's seat.
OK, I'm Sold – Just Tell Me How it Works Already
There are multiple ways to connect your Ram 1500 to Uconnect. The most hands-off way to set up your Uconnect system is to push the assist button located on the rearview mirror. Next, you'll select the UConnect icon on the touchscreen, and from there, a customer service agent will walk you through the process.
If you want to register online when you're in your Ram 1500, access Unconnect through the button at the bottom of your touchscreen. From there, you'll enter your email to receive a link to register your vehicle for Uconnect access. Next, you'll want to check your email on your smartphone and click that link to activate your Unconnect connection. Once you open that link, you will create a new account, or if you're lucky enough to have already owned a vehicle with Uconnect, log in to access your saved preferences.
Once you have set up your Uconnect account, it's time to pair your smartphone. After pressing the Uconnect button in your vehicle, you'll receive a voice prompt. Follow the prompt trial by saying "setup" and then "phone pairing" – the system will then prompt you to say "pair a phone" and ask for a PIN. You can find this four-digit PIN in your vehicle manual.
After confirming your PIN, you'll give your phone a name and assign it a priority number. Be sure Bluetooth is enabled on your smartphone and open that setting to search for Uconnect. It should simply show up as "Uconnect" under available devices. Choose Uconnect in your phone's Bluetooth settings, enter that vehicle manual PIN once more, and your vehicle should announce a successful pairing. If all else fails, don't forget that you can always just come back to the Dan Cummins dealership, and we'll be happy to help you out.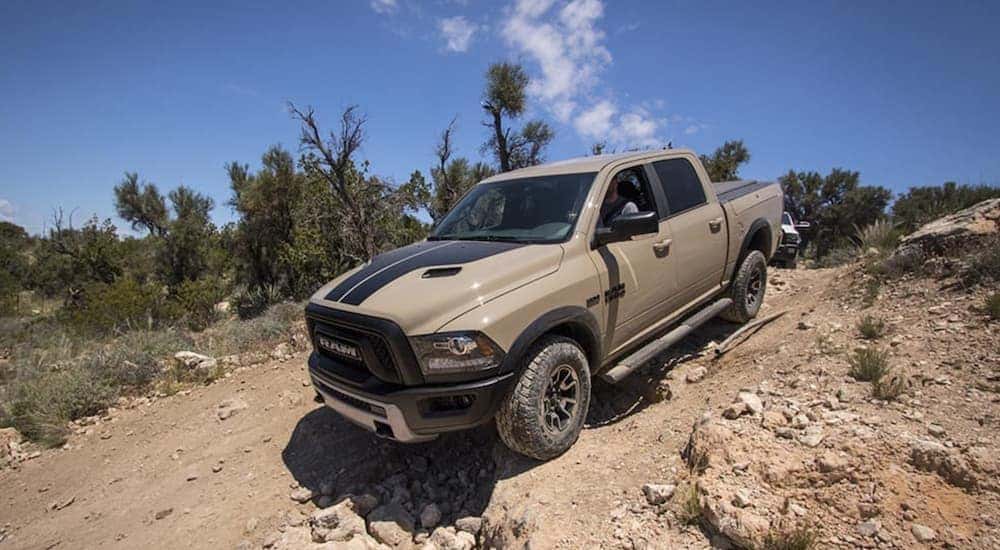 What's in a Name
If you're looking for a used Ram 1500, you may notice that some are listed as Dodge Rams, while others are just Rams. What gives? Like most automotive relationships, it's complicated. The original Dodge brand, formerly known as the Dodge Brothers Company, began making trucks in the early part of the 20th century. During the 1920s, Chrysler bought the brand but continued to let it operate as an independent division.
Multiple years and mergers later, the Ram name was applied to Dodge's new full-size truck in 1980. Three decades later, further corporate maneuvering resulted in Ram Trucks being split off as its own brand, allowing Dodge to focus on its cars and vans. Any Ram made after 2010 has no branding connection to Dodge, although the two divisions continue to share technology and features such as the Uconnect infotainment system.
And Away We Go
There are many reasons to purchase a used Ram 1500 – whether it bears the Dodge branding or not. Even used, these rugged trucks still have a lot of life left and can easily last for 200,000 or 300,000 miles. The Ram 1500 has often received accolades for its reliability, although 2018 trucks are often considered the best value as they were the final year of 4th generation production.
Whichever year of the Ram 1500 you choose, you'll be set with a truck that has the potential to work hard for years to come. And with the user-friendly Uconnect infotainment system, you'll have the muscle of Ram plus the power of the internet, all from your driver's seat. If you have any questions on these excellent trucks, feel free to reach out to the team here at Dan Cummins CDJR for the answers you need. We offer the best inventory of new and used Ram trucks in the Lexington area.