Why Jeep Hit A Home Run With the Grand Cherokee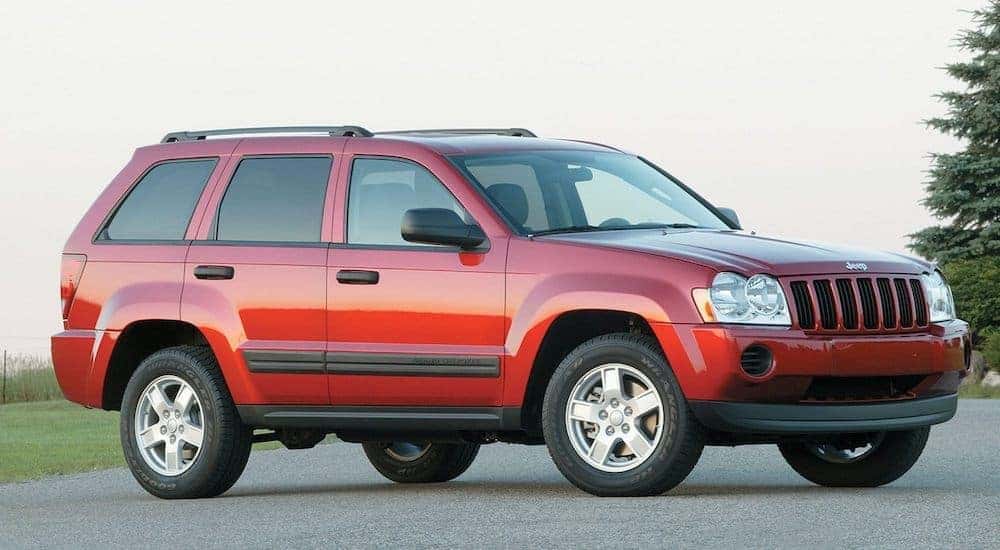 If you're looking for a used Jeep Grand Cherokee, know that you're in good company. Why? It's a popular choice. The Grand Cherokee sublimely matches Jeep's rugged off-roading heritage with uncommon luxury features, making it a comfortable and luxurious SUV that looks equally good covered in Kentucky mud or cruising the streets of Lexington. It's truly the best of both worlds and the perfect marriage of fancy and functional.
If you want to set about locating the best pre-owned Grand Cherokee for you, it's a good idea to think about which options and features are most important. Do you want two-wheel drive or four-wheel drive? Do you have a color preference? Luckily, the Grand Cherokee looks great in every color. Maybe most important is the model year. Do you want new and lightly used or something older and more affordable? Jeep's class-leading commitment to quality takes the worry out of buying a higher-mileage model.
The other good news is that the Jeep Grand Cherokee has maintained its good looks and curb appeal over its entire life cycle. Even the newest Grand Cherokee has similar lines to its predecessors. Jeep knows a timeless design when it sees one, and buyers get the benefit of feeling like their older Grand Cherokee is still pretty current. Launched back in 1983, the Grand Cherokee has seen its share of redesigns.
Let's take a look at the fourth generation of Grand Cherokee models, trims, and features to help you zero in on the year that works best for you. We think the Grand Cherokee's luxury features are a highlight, so we'll review those too. This generation started with the 2011 model and continued all the way through 2020. That's a long run for any vehicle and a testament to the timeless design of the Grand Cherokee.
Fourth Generation Overview
Launched in summer 2010 as a 2011 model, the completely redesigned fourth-generation Jeep Grand Cherokee came out swinging with over 127,000 sold, compared with just 84,000 the previous year. It was clear from its launch that the public adored the new Grand Cherokee, and with good reason. The 2011 Grand Cherokee was named an IIHS Top Safety Pick and Consumer's Digest Full-Size Luxury SUV Best Buy. It was also Truck of the Year for The Detroit News. In fact, the Grand Cherokee is the most awarded SUV in history.
For the fourth generation, Jeep put the focus on luxury. Inside, the cabin received leather and real wood trim, as well as Bluetooth connectivity and Chrysler's Uconnect system, providing 24/7 roadside assistance and other connectivity features. The available Selec-Terrain drive system allowed drivers to select between different driving modes with the turn of a dial, including Auto, Sport, Snow, Sand/Mud, and Rock.
Several upgrades to the Grand Cherokee's body and suspension combined to provide a more luxurious ride and a quieter, more acoustically-pleasing interior. The body design was almost completely new and focused on aerodynamics, but also rigidity. Anytime a vehicle can increase its rigidity, the effect is less road-noise, fewer vibrations, and an overall smoother ride. Jeep accomplished this by 5,400 separate welds, tightening the body's rigidity significantly from the previous generation. Jeep also added independent front and rear suspension for better handling.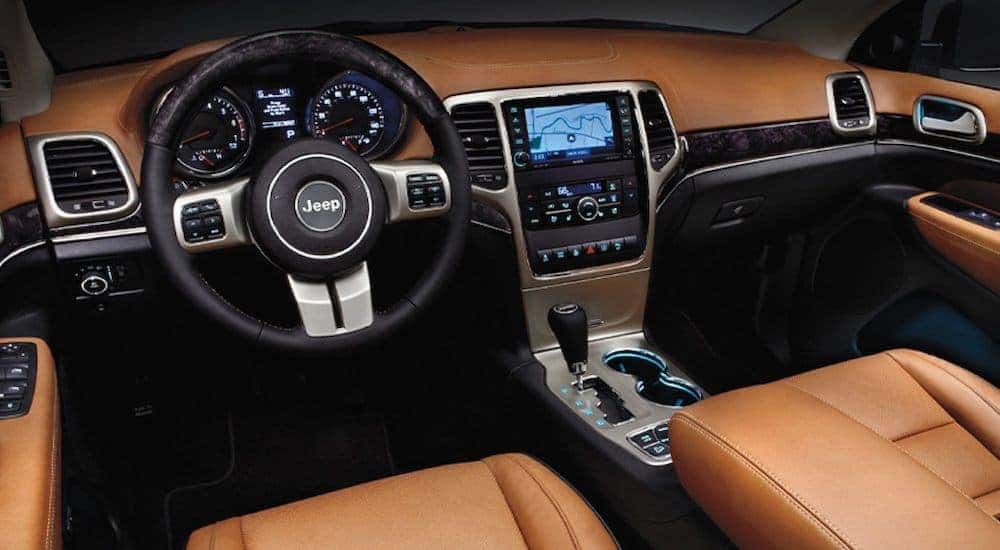 Available Trims
The Grand Cherokee offered many different trims throughout its fourth generation. These were modified, rearranged, and sometimes discontinued, but overall, Jeep remained steadfast in its commitment to offering the Grand Cherokee in several configurations. This gave all buyers – from the budget-conscious adventurer to the urban luxury SUV seeker – plenty of choices.
In 2011, the Laredo "E" was the Grand Cherokee's entry-level trim. Later, it became just the Laredo. Even at the base model level, the Grand Cherokee included several luxury features, like a five-inch touchscreen, which was replaced by a larger seven-inch infotainment touchscreen in 2017. A six-speaker audio system was also standard and included SiriusXM satellite radio compatibility.
Next came the Laredo X, available from 2011 until 2013. Buyers received upgraded 18-inch aluminum wheels, leather seats (power in the front), an upgraded Alpine audio system, and several optional luxury features, like a power liftgate, navigation, and a dual-pane power moonroof. This Grand Cherokee model also offered an optional 5.7-liter V8 engine.
The Limited put luxury front-and-center with a plethora of optional comfort and convenience features. These included heated and ventilated front seats with memory for the driver, upgraded luxurious Nappa leather seating, 20-inch wheels, plus everything that came with the Laredo X. The Limited showed off the Grand Cherokee's ultra-luxury side and gave buyers a solid – and more affordable – alternative to a luxury European import.
Other Special Edition models and trims appeared throughout the Grand Cherokee's fourth generation. Some highlights include the very popular Trailhawk edition, which equipped the Grand Cherokee with off-roading equipment like all-terrain tires, a special Quadra-Lift air suspension, and protective steel skid plates, giving the exterior a distinctive look unique to the Trailhawk.
The 2018 Grand Cherokee Sterling Edition was a 25th anniversary trim celebrating the Grand Cherokee's quarter-century milestone. It received all of the Limited trim's equipment, plus special 20-inch Heritage wheels, an 8.4-inch infotainment system in the dash with Apple CarPlay and Android Auto connectivity, and a premium Alpine sound system with nine speakers. The Sterling Editing can be identified by its selection of unique interior color schemes and distinctive exterior badging.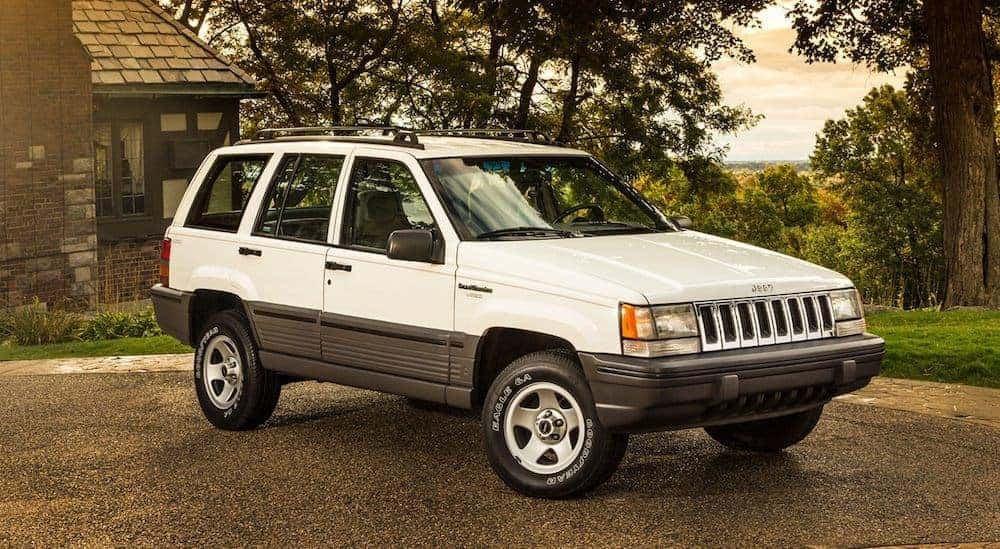 Grand Cherokee SRT 392 and SRT Trackhawk
If you like a little performance with your luxury ride, these two high-performance models will fit the bill. The SRT 392 was available from 2012 until 2017 and reigned supreme as the highest performance Grand Cherokee in the lineup until the 2018 introduction of the Grand Cherokee Trackhawk and its supercharged engine.
The SRT 392 comes equipped with a high-powered 6.4-liter HEMI V8 engine that put out 470 hp in 2012 and slowly crept up to 475 hp by the 2017 model year. Combined with an impressive 470 lb-ft of torque, this Grand Cherokee is a thrill-seeker's dream ride. For 2017, the SRT received some luxurious interior appointments that threatened to render its heart-thumping performance only number two on the list of accolades.
Interior refinements on the SRT included saddle-colored leather seating, carbon fiber accents, and a sleek microsuede headliner above. Plenty of options were available on this beast, including a power moonroof and a dual-screen rear entertainment system – as if the rear seat passengers could focus on a movie with all that power. These luxury touches put the Grand Cherokee SRT in fair competition with European high-performance SUVs.
Even though the 6.4-liter V8 engine provides a lot of vroom vroom acceleration noise, Jeep refined the cabin with active noise cancelation. This system counterbalances road noise with opposite frequencies via carefully placed microphones throughout the interior, effectively neutralizing exterior noise. Jeep outfitted the SRT with a D-shaped sport steering wheel, which is flat on the bottom, and it combines with the sport bucket seats to provide a luxury race car vibe.
Overall, the fourth-generation Jeep Grand Cherokee has the goods. If you seek a luxurious used SUV with a few extras – like performance and off-roading capability – look no further than the 2011 and later Grand Cherokee. It's almost a guarantee that within its large range of trims and variants, you'll find the best fit for your budget and driving style. Jeep makes vehicles that fit families, urban dwellers, cost-conscious buyers, and off-roading adventure seekers. The Grand Cherokee line embodies freedom of choice, and at Dan Cummins CDJR, we'll be happy to help you find your perfect Jeep.