2022 Jeep Compass: This Is the Way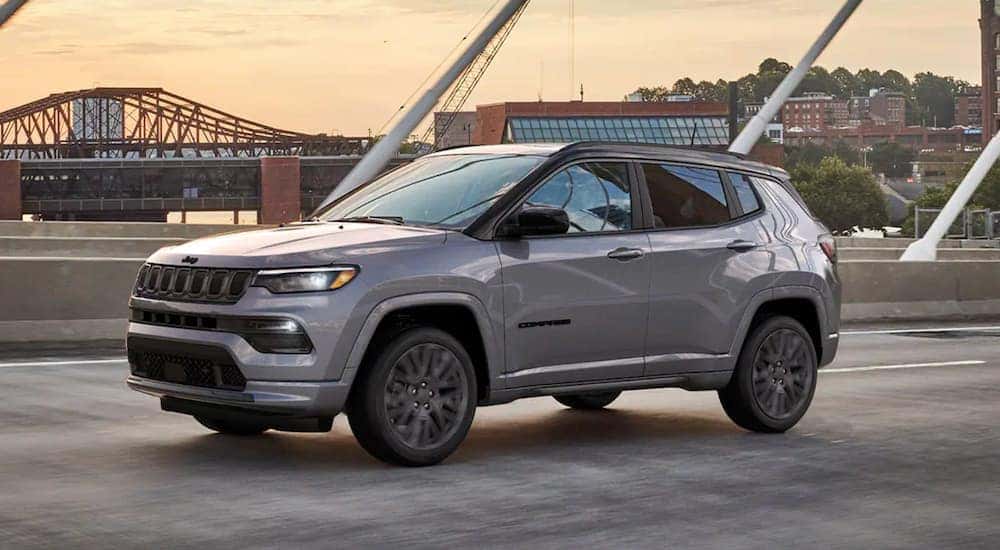 Imagine this, there's you, your vehicle, and the open road. Everything seems right with the world. Style has always been important to you, but so has the capability of the automobile you're driving, so what should you do? The answer is simple, and that's to read this article about the 2022 Jeep Compass. After this, and once you're ready to make your next step, you can come down to Dan Cummins CDJR to begin shopping. We're one of the highest-rated Jeep Dealerships in Lexington, KY, and this wasn't something that happened overnight.
Earning the trust of our community is key, and the best way to do that is by supplying the best vehicles that Jeep has to offer and at a competitive price too. Nobody knows better than Jeep fans that there is nothing like these well-constructed automobiles that have formed a massive following over the past few decades. One of the latest arrivals is the refreshed Compass for the 2022 model year, and we have plenty to show you, so keep on reading to learn all of the necessary details to help you make an informed decision when you visit our dealership.
The Available Trims
This year's Compass model is available in six trim levels; the base model is called the Sport, and it sports an MSRP of $24,995.* We're confident to say that the base trim level has gone above and beyond the expectations of many, including critics, and that you won't feel robbed from the overall experience should you try to save a bit of money. That's not to say that the other available trims aren't well worth your attention, however, as each one brings forth something not found on any preceding trim level. For example, Latitude is the next trim on the list, and this trim adds the likes of fog lamps, keyless entry, and some exterior enhancements too.
The next available trim level for the Compass is Latitude LUX, and we feel this is where the true luxury features begin to appear. With heated leather seats and steering wheel, larger 18-inch wheels, and an upgraded 10.1-inch infotainment touchscreen, the Latitude LUX is a welcome addition to the Compass lineup. After this, we have the Limited trim, and there are only a couple of differences between it and the Latitude LUX, such as the gloss black room and chrome splitter, which add to its luxurious appearance.
Drivers who are familiar with Jeep also know that one of the most notable highlights of vehicles produced by this manufacturer is off-roading. Of course, not every Jeep vehicle is built for off-roading, but that doesn't stop the Compass if you opt for the Trailhawk trim. There are many features here that correlate to more fun and safer off-roading experience, starting with more ground clearance and an upgraded 4×4 system. Red tow hooks are also included, helping you conquer the toughest trails with peace of mind.
Lastly, we come to the best-of-the-best, and that's High Altitude, the single most luxurious trim that the 2022 Compass can offer you. What makes this so? A few things and the first one to mention is another increase in wheel size. With High Altitude, you'll be driving on large and strong 19-inch wheels. While the infotainment center remains the same that appears on the Latitude LUX trim and beyond, High Altitude also includes a 10.25-inch information cluster display, which replaces your dashboard's analog gauges with a digital screen that is customizable. Another exciting feature that High Altitude has not found on other trims is a panoramic sunroof, and for anyone who has ever experienced one, we don't have to tell you how incredible it is. For those who haven't, the driving experience will feel more freeing – you can have extra natural light in your cabin and extra airflow on a breezy summer day.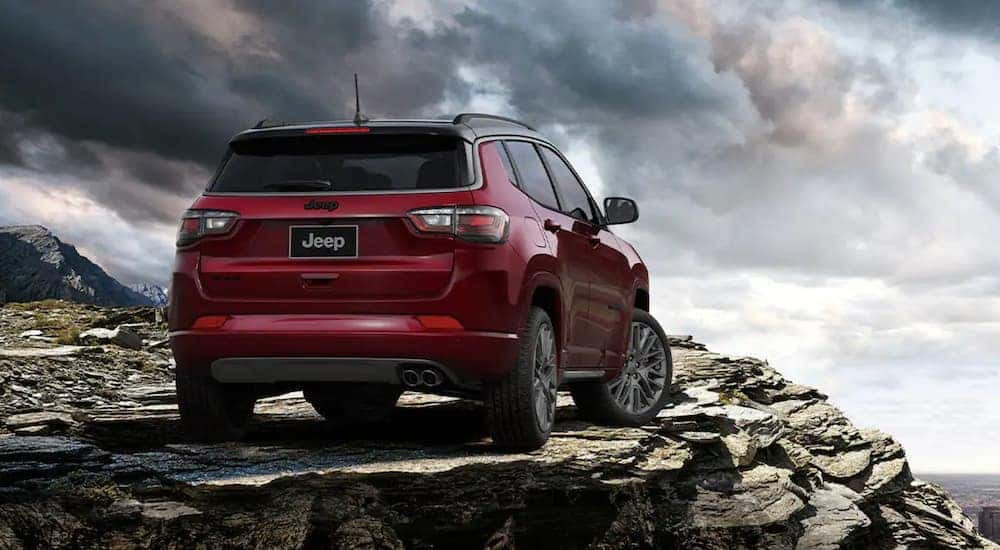 There's A Catch
Depending on what you're looking for in a vehicle, the Compass may appear a tad underwhelming in regards to powertrain options. This is because there's only one powertrain that will come with the Compass, and this has some positives and negatives attached to it. The positives are that those who purchase a lower-tier model such as Latitude or the Sport will mostly receive the same performance as higher-tier trims. The negative surrounding this single powertrain option is simply the lack of customization – but that lone drawback may not remain all that much longer.
The European version of the Compass already has an optional 4xe plug-in hybrid variant, and we expect the Compass 4xe to make its way to America soon. Until then, we're rather pleased with the Compass's powertrain, even if it doesn't quite hit the 200 hp mark. With the Compass, a 2.4L four-cylinder engine comes paired with either a 6-speed or 9-speed automatic transmission, so the ride does feel excellent to drive. This engine creates 177 hp and 172 lb-ft of torque, and at its best, the Compass will tow 2,000 lbs, which should be just enough for fun summer activities such as bringing a boat down to your local lake.
Fuel efficiency is rather spectacular with the Compass, and this is one of the reasons why we hope a turbocharged engine is in the works because if they can improve upon what's already here, that would be nothing short of incredible. If the 2.4L four-cylinder engine earns the same EPA-estimated ratings as last year, it will make 22 MPG city and 31 MPG highway. Overall, the Compass does perform more than well enough to meet the expectations of many drivers, but power enthusiasts are warned, there are limits here.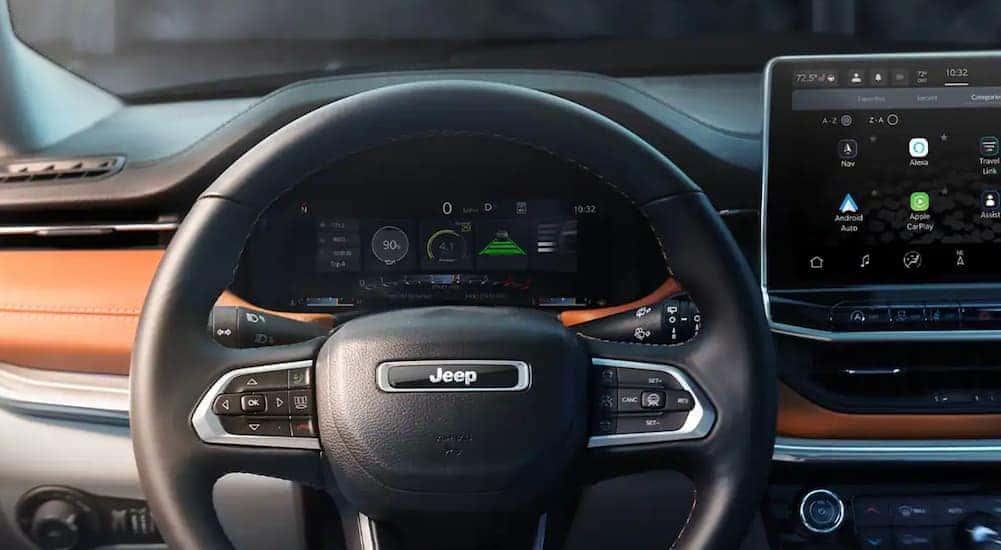 Our Verdict
We don't need to tell you how much Jeep vehicles mean to fans of the brand, but Jeep drivers are a tight-knit community that respects each other, wave to each other on the road, and so forth. So, how does the 2022 Compass hold up against all of the competition, including other models in the Jeep lineup? We think there's plenty to enjoy here, and we also think there's plenty of room for growth too. There already isn't much to nitpick about the 2022 Compass, and we feel that for your average driver, it checks all of the necessary boxes. The only question is where you should go to pick up your Compass? We're Dan Cummins CDJR, and we've got vehicles from all of your favorite brands, including Jeep.
Our dealership is one of the best around, and we're not just saying that as our lot is filled with the hottest new releases and a wide range of used vehicles for you to select from. We offer test drives as this is the best way to get a feel for the vehicle, and our sales team will be with you every step of the way to ensure that your questions are properly answered with factual details. So, what are you waiting for? Come visit our dealership, which is located at 2021 Alverson Drive, Paris, KY, and we will get you behind the wheel of Jeep's freshest compact SUV. We can't wait to show you everything the 2022 Compass has to offer!
*MSRP subject to change. Please see dealer for details.