But the reasons to buy a used car are not purely financial. Shopping the used market opens up far more makes and models than you will have access to buying new. Sure, the lower cost of new cars means that you can upgrade to a larger or more luxurious model, but you will also gain access to all sorts of unique vehicles that are no longer available from a new car dealership. There are plenty of high quality used car models that might be perfect for your needs, but were discontinued as part of manufacturer cost-cutting or because the niche they filled was too small.
In short, the used car market can be a treasure trove of exciting and high-value vehicles. And the advantages of visiting your local used car dealership are greater than ever, thanks to the increased reliability and durability of modern cars. While in the past, a car might have been lucky to make it to 10 years or 100,000 miles, that is now less than the average age of the vehicles on the road today. If you treat a modern car well, it will take care of you for a long time.

Our Expansive Inventory of Used and CPO vehicles
Here at Dan Cummins CDJR Paris, we have the best inventory of used cars in the Lexington, KY area. With well over 100 vehicles on our lot, including examples from nearly every major domestic and foreign manufacturer, when you visit our dealership, you are sure to find something that will fit your needs perfectly. Whether you are in the market for a powerful truck, a versatile SUV, or an efficient car, we have plenty of options for you to choose from. We even have a number of high-performance sports cars if you are interested in something more exciting for your next ride. No matter what you are looking for in your next vehicle, you will be able to discover it here at Dan Cummins.
Our expansive inventory of quality used vehicles also includes plenty of options for every price range. From economy cars to luxury models, and from older vehicles to examples that are virtually fresh from the factory, we guarantee that we have something that will fit your budget. It does not matter if you are hunting affordable barebones transportation or are looking to splurge on something with all the bells and whistles, here at Dan Cummins, you will find what you seek. It is this variety, as well as its size, that makes our collection of used cars one of the best you will see.
We are even able to offer our best used vehicles from those brands through the Certified Pre-Owned program. Vehicles with a CPO label are the cream of the crop and have all passed a detailed 125-point mechanical inspection by our service department. Further, our CPO options come with an extended 7-year/100,000-mile factory warranty, 24-hour roadside assistance, and other benefits such as a complimentary subscription to SiriusXM satellite radio on compatible vehicles. Buying one of these CPO cars, trucks, or SUVs is a high-value way to get a virtually new vehicle at a lower price.

Why Dan Cummins Is the Place to Find Used Vehicles
Choosing the right dealership is as much a part of buying a car as finding the car itself. There are many living examples of the used car dealer stereotype, and many small used cars will be perfectly happy to sell you something that will break down the moment you drive off the lot. That is why it is vital that you find a reputable dealership that will treat you honestly and stand by every car that it sells. Here at Dan Cummins, we look after our customers and make sure that every car we sell meets our rigorous standards for quality and value.
As a certified Chrysler, Dodge, Jeep, and Ram dealership, we know that we do not just have our own good name on the line, but that we also have to uphold the reputation of the manufacturers that we represent. This means that we go above and beyond in ensuring that our customers are given the honesty and transparency that you deserve. For instance, we offer a free CARFAX vehicle history report for every used car on our lot. This is openly posted online as part of the vehicle description and will tell you the exact condition of the vehicle, including the number of previous owners and any previously reported damage.
And even beyond our regular services, we are part of the local community and try our best to give back to the area that supports us. We fully understand that we could not remain in business without our loyal customers, and we have partnered with many local and national organizations to do our part to help out. These include the Paris and Bourbon County High Schools and the Paris Sheriffs and Police Departments, as well as larger charities such as the American Cancer Society. We are all about community and service here at Dan Cummins, and that is why you should pick us for your next used vehicle purchase.
Enjoy the Trip to Dan Cummins CDJR in Paris
While you're in town, be sure to visit some nearby sites, like the historic Keeneland racetrack. Founded in 1936, Keeneland hosts annual horse races and even hosts practices for Kentucky Derby jockeys and horses. You don't need to be a horse racing fan to appreciate the skill of the riders and the beauty of the horses. This park is affiliated with the Smithsonian and sprawls across 1,000 acres. Catch the Horses of the World show twice a day, which showcases various breeds of horses from all across the world. The facility also houses horse memorabilia and features horse riding, carriage rides, and even campgrounds for an overnight stay. You can find Keeneland located at 4201 Versailles Road in Lexington, KY.
Hungry? Whether you are a native Kentuckian or just passing through, you'll want to sample our quality restaurants. Don't miss the chance to try our unofficial state sandwich, the Hot Brown. This open-faced sandwich is a meal in itself and features turkey or chicken with bacon covered in a white bechamel sauce called Mornay (which has grated gruyere in it as well). There is no better place for a Hot Brown than Winchell's Restaurant.
Winchell's expansive menu features many local favorites in a no-frills atmosphere. Winchell's Hot Chicken is a fried boneless chicken breast with a homemade Nashville spice blend on with bread. Find local favorites, like encrusted almond trout and fried chicken livers. If you've got a sweet tooth, you'll love their delectable homemade banana pudding with vanilla wafers, sweet banana slices, and fresh whipped cream. Winchell's Kentucky Bourbon Pecan Pie is to die for with toasted pecans baked in filling and a touch of Kentucky Bourbon wrapped inside a buttery pie crust.
Are you looking for an upscale meal with some historical provenance? You won't want to miss the Merrick Inn. A Pre-Civil War house, remodeled in 1936, the Merrick Inn is a world-renowned restaurant. Many Kentucky Derby winners were trained here, including Commodore, Dust Flower, and Exterminator. Since then, the Inn has been in the capable hands of the Murry Family, providing classic American classics with a twist.
Try the pecan-crusted pork tenderloin with Maker's Mark apple chutney for a perfect mix of sweet and savory. The Inn is best known for its Southern Fried Chicken. Get it hand-breaded in white or dark meat. Several seafood options are available at the Inn, including fresh broiled Canadian salmon and walleye pike, which can be fried or broiled to your taste and served with house-made tartar sauce.

After Your Meal, Shop Our Dealership for SUVs
For the best food, you can't go wrong with the restaurants above. If you are looking for the best used SUVs for Lexington drivers, our dealership is the place to be. While Dodge is famous for the Ram and Grand Caravan, don't underestimate the Dodge Durango. Older models are very reliable, starting with its first iteration in 1998 to the third generation starting in 2011.
The Durango's super sporty grill and sleek exterior make for an enviable design. Three rows of seating provide all the room you could need for up to seven people. Speaking of spacious, for example, the 2018 Durango even has up to 84.5 cubic feet of cargo space.
Cargo space is augmented by the 60/40 split-folding third-row bench seats and the second-row Fold & Tumble. When you are not carrying friends and family, you can tote more cargo. What powers the massive 2018 Durango? The choice between 293 and 475 hp engines, of course. This year of the Durango even has a towing capacity of up to 8,600 pounds.
With plenty of standard safety and security features, you can drive the Durango with confidence. A secure and robust cage helps prevent injury to you and your passengers. Responsive brakes ensure superior traction, including ready-alert braking, a smart system that recognizes the release of the accelerator and prepares for a quick stop. The Durango even has blind-spot monitoring to prevent accidents while changing lanes, making it hands-down one of the best used SUVs out there.
A Great Selection of Used Cars
If you are a Lexington driver in the market for a used car, look no further than the Chrysler 300. Since this car was first introduced, it has been a hallmark of affordable luxury. Its beautiful exterior set the tone for future vehicles, even those at a much higher price point. The current generation came into existence in 2010 and has all the technological advances you could want from a car. The interior is fitting with the creature comforts of a high-end sedan. Front heated and available ventilated leather-trimmed seats and heated rear seats keep you and your passengers at the perfect temperature. The steering wheel has easy access buttons that keep your eyes on the road.
Later models include fantastic connectivity with the Uconnect 4C system and available 4C Nav. These systems use an 8.4-inch touchscreen in the center console and allow integration of Android Auto and Apple CarPlay. The best in class available 5.7-liter HEMI V8 engine has a show-stopping 363 horsepower and 394 lb-ft of torque. It even has integrated fuel saver technology to detect when full power isn't necessary and can deactivate four of the eight cylinders.
The Chrysler 300 has many safety features as well. Available rear cross path detection helps to prevent backing accidents, especially those from cramped parking spaces. Lane departure and adaptive cruise control stop you from rear-ending or side-swiping other vehicles. If you are looking for an affordable, luxury used car, the Chrysler 300 is for you.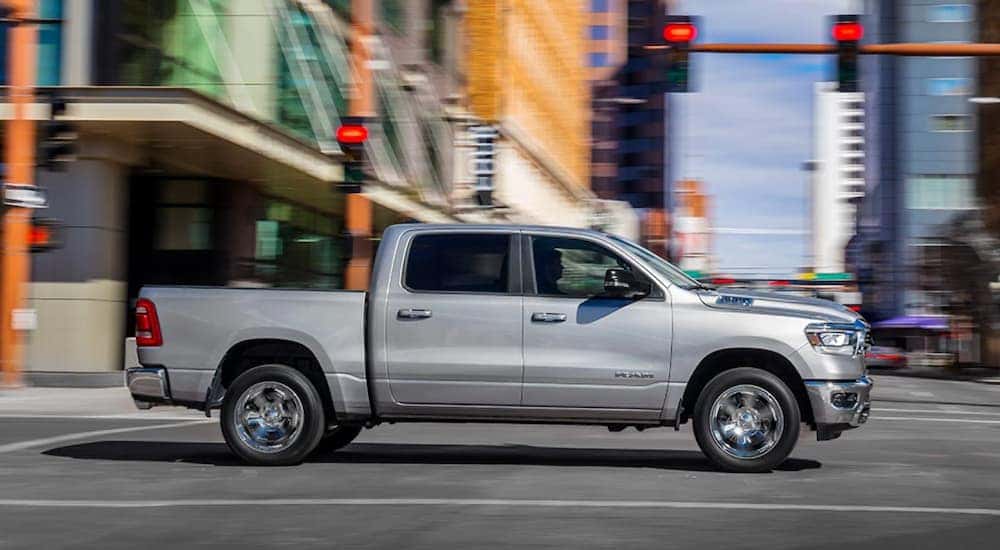 Shopping for a Used Truck?
Lexington Drivers looking for the best used trucks should consider the Dodge Ram. It is a household name and a reliable truck for anyone in the market for a work vehicle or a tech-savvy modern pick-up. Rams come in several models and possible configurations. Don't just take our word for it; the Ram has been named the best truck brand of 2020.
The Ram 1500 set the industry standard by which other pick-ups measure themselves. Named a Consumer Guide Best by for 12 years running, you can't go wrong with a used Ram. The 2019 Ram 1500 has an available multifunction tailgate to serve all purposes while you're busy on the road, but you won't find this on any earlier models. Since 2014, the 4th generation Ram 1500 has led in technology with Eco-Diesel engines for stellar efficiency and performance.
Let our knowledgeable staff take you on a test drive in a Ram 1500. Whether you're an old fan of this classic truck or a first-time buyer, we can help you find the perfect fit for your lifestyle and budget. The Ram 1500 isn't just for work. It's a great family vehicle that comes in handy for moving your kids off to college, hauling new appliances from the home improvement store, and packing heavy camping gear for your next family vacation. With such dependable and high-quality construction, an older model is a bargain buy that's guaranteed to serve you well for years to come.